Senior Pastor: Crandell Fountain
Pastor Crandall Fountain joined the ministerial staff as Senior Pastor of Sandy Plain OFWB church in June of 2023.
He was raised and worked on the farm next to his grandad. He had always had a heart for the farm while believing his gifts were in animal husbandry. He graduated from NC State in 1984 with an AA degree in Crop Technology and Animal Science.
Later he attended Mount Olive College to fulfill the requirements for ordination as a pastor in the Original Free Will Baptist. He was ordained in November of 2010. He served as a bi-vocational pastor of Sneads Ferry OFWB church from January 2011 until June of 2023.
He enjoys salt water fishing, traveling, and snow skiing.
His passion is to share the gospel of Jesus Christ and see lives changed because of it.
He has a heart for the mission Christ Himself gave,
"Go therefore and make disciples of all the nations, baptizing them in the name of the Father and of the Son and of the Holy Spirit, teaching them to observe all things that I have commanded you; and lo, I am with you always, even to the end of the age."
Amen." Matthew 28:19-20 NKJV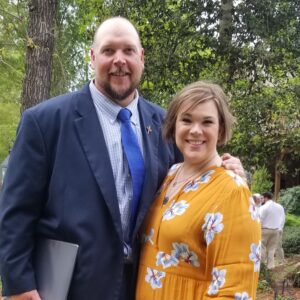 Associate Pastor & Wife
David and Amanda Mercer
Pastor David Mercer joined the staff at Sandy Plain OFWB Church as Associate Pastor in September 2021. Pastor David gave his heart to the Lord in January 1998 and began pursuing the call of ministry that God placed on his life that summer. He graduated from Mount Olive College in December 2001 with a degree in church ministries and a minor in christian education. He was ordained in 2003 by an independent church and served as associate pastor until September 2009 when he became interim pastor for 1 year. Pastor David and his wife, Amanda, started attending Sandy Plain in the spring of 2012 and became members soon after. Pastor David began the ordination process through the Original Free Will Baptist Eastern Conference in 2015 while serving as a supply preacher for churches and speaking at revivals and special events throughout Eastern North Carolina. He was ordained through the Original Free Will Baptist Eastern Conference in March of 2021.
David and Amanda were married in April of 2010. David's hobbies include hunting, fishing and cooking. David and Amanda's passion is building relationships with people and sharing the love of Christ. Psalm 116 is a favorite passage of Pastor David's because it relates to how he felt when he gave his heart to the Lord.